Manitou Springs Property Management
Let us manage your Manitou Springs Rental Property

We offer a full range of property management services tailored to you as an investor, homeowner, or landlord. We have an extensive portfolio of single family homes, townhouses, condos and apartments in the Manitou Springs area.
How much income can you get for your investment?
Our market analysis helps landlords and us make data-informed decisions about their rental property, including rate estimates and other information so they can invest and manage their investment property more wisely.
Get Optimized Rental Value for Your Property
Gain Crucial Insight into Current Market Conditions
Determine Your Cashflow from Monthly Rental Value
Get started with your FREE RENTAL PRICE ANALYSIS by
completing the form .
BENEFITS Of Using Cornerstone Real Estate Team
No hassle management – hands-off for you, the owner
Monthly owner statements, delivered to your inbox
Online Owner Portal Access
Industry leading marketing tools
24/7 maintenance request handling
Prompt Response to Tenant Requests
Low vacancy rate
Low time on market
Industry specific local knowledge
Members of the Council of Elite Property Managers and the National Association of Residential Property Managers (NARPM®)
HOW WE HELP As Your Manitou Springs Property Manager
Fill your vacancies, quickly
Actively market your property across multiple websites
Handle all tenant inquiries
Conduct a 5-part Credit and Background investigations
Application processing
Lease signing
Full service repairs and routine maintenance
Rent collection
Accounting
Coordinate evictions if required
Critical Questions a New Owner Should Ask
Often a homeowner new to property management doesn't know what questions to ask a potential management company. In addition to comparing services, price, and reviews – an owner should consider these questions below to better understand if a company is a good fit.
WILL YOU SHOW MY PROPERTY TO PROSPECTIVE TENANTS?

Yes, one of our team members will conduct all showings for your property.

DOES YOUR COMPANY PROVIDE 24/7 EMERGENCY MAINTENANCE SERVICE?

Some companies offer no after-hours support, leaving it up to chance. Some expect the tenant to make calls to a specialist, if needed. Others put one staff member in charge of handling any calls that may come in on weekends or after hours. Some use untrained 3rd party vendors, who can do little more than take a message.

What we do: We utilize a service that is specifically trained and focused on handling maintenance calls. This service will distinguish between a routine call, which can wait until during business hours, or an emergency which needs to be handled immediately in order to protect your property or the tenant.

HOW DO YOU MARKET MY PROPERTY?

We advertise and market your property using MULTIPLE methods. We market your property through our property management software system, which will export your listing to additional real estate websites, to include Zillow, Trulia, and Hotpads (the three most common used in search). Additionally, we have worked very hard to move our company up higher in the search results on Google. In fact, that is likely where you found us. So, when tenants are looking at websites for available rental homes, they typically will find our listings first. This puts our listings at the advantage of being seen first and rented first.

In addition to our digital marketing strategy, we also utilize high quality photos (taken by a professional photographer) and video tours to properly showcase your home. Our video marketing strategy ties into our Search Engine Optimization (SEO) strategy as well.

We will also pay commissions to Realtors who bring us tenants. Some of our tenants use a Realtor to help them find their rental home. So we offer commissions to these agents, to entice them to work with us and help us to find quality tenants.

What does this mean for you? Cornerstone is renting homes FASTER than anyone in the market! We will rent your home in 21 Days or Less – or we will provide you the first two months of management free! Learn more about our 21 Day Guarantee HERE.

DOES YOUR STAFF HAVE INDUSTRY SPECIFIC TRAINING?

We are members of the National Association of Residential Property Managers (NARPM) at the national and local level. NARPM provides industry specific education on all aspects of property management through weekly meetings, continuing education classes, and seminars. Lance Kohler holds the Residential Management Professional (RMP) designation, which is based on experience and training in property management.

We are members of the Apartment Association of Southern Colorado (AASC). AASC provides industry specific education and training on both residential property management and management of multi-family housing.

HOW BIG (OR SMALL) IS YOUR COMPANY?

The size of the company you choose to work with will impact the service you receive. Small companies, managing 100 doors or less, often have few systems in place to efficiently manage properties. In many cases, they are managing homes as a side business or secondary to their sales.

Large companies that are managing 1,000+ homes across the country may have available systems to manage the homes, but they rarely have enough employees on the ground to properly oversee operations. Don't be fooled by low rates and grand promises. These companies are only looking at the bottom line, and are hardly local experts.

Cornerstone is locally owned and operated and has been managing properties in Manitou Springs for over a decade. We are a medium-sized company, which provides you several advantages: we have established processes and systems that allow us to effectively manage your property or properties; we have the experience gained from managing properties of all types; we are still small enough to provide you with excellent customer service and attention.

We have slowly grown over the past 3 years, steadily increasing the number of properties we manage each year while we improve and increase our services. Our plan is to continue to grow in the market we know best (Manitou Springs!), and to become the only choice for property management in the Manitou Springs area.

CAN TENANTS APPLY ONLINE? CAN TENANTS PAY RENT ONLINE?

Yes! Tenants can apply for a home in minutes through our website. Tenants can submit work order requests online and pay online from anywhere!
Discover Manitou Springs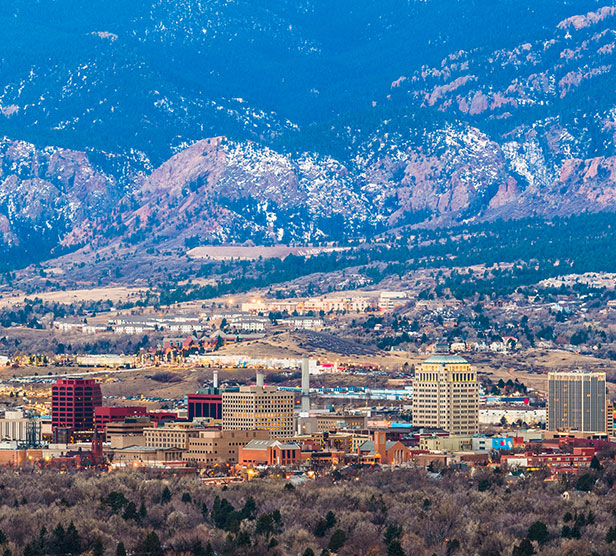 General William Jackson Palmer and Dr. William Abraham Bell founded Manitou Springs in 1872, intending the town to be a "scenic health resort." Dr Bell's home, Briarhurst Manor is open to the public as fine dining restaurant, which listed on the National Register of Historic places. In 1876, the town was incorporated. "Manitou Springs has been the quintessential tourist town since the 1870s, when visitors discovered the healing waters the Ute Indians had been drinking for years. Many of the town's mineral springs still function today and the water is free." Source From Wikipedia